Alumina ceramics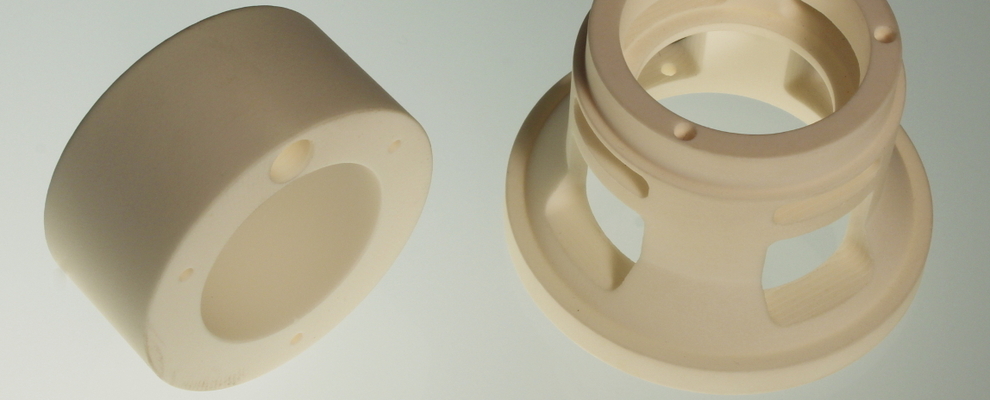 High precission alumina ceramics for complex technical elements
Characteristics
Crytur produces complex 3D shapes from engineering grade alumina with high ratio of polycrystalline Al2O3 and low porosity. Production process involves precision machining and several highly controlled sintering steps.
Resulting material has unique combination of physical properties
Durability (high mechanical strength, high hardness, high stiffness, good wear resistance)
Resistance (high temperature resistance, high corrosion resistance)
Electrical (high dielectric strength, low dielectric loss)
Thermal (high melting point, high thermal shock resistance, good thermal conductivity)
Thermo-mechanical (low thermal expansion)
Material characteristics
Physical properties
Composition
98% Al2O3
Porosity
Fully gas tight
Density
3850 kg/m3
Color
White
Thermal properties
Thermal conductivity
29 W/(m * K)
Coeficient of thermal expansion (300 - 900K)
8x10-6 /K
Specific heat kapacity
880 J/(kg * K)
Maximum service temperature
1650 °C
Fracture toughness tests
Fracture toughness
4.3 MPa*m1/2
Flexural strenght
386 MPa
Modulus of elasticity
331 GPa
Compressive strength
2070 MPa
Vickers pyramids number
1340 HV
Electrical properties
Dielectrict strength
9.3 kV / mm
Dielectrict constant (1MHz)
9.4
Specific resistance (20 °C)
1016  Ω * m-1
Application
Alumina ceramics is widely used in various applications with challenging mechanical, thermal or chemical conditions. Low porosity makes it suitable in high vacuum applications. It is also frequently used for electric insulation and electronic packaging.
HIGH VACUUM INSULATING GROMMETS
ELECTRON MICROSCOPY
LASER TECHNOLOGY
SEMICONDUCTOR COMPONENTS
AEROSPACE COMPONENTS
AUTOMOTIVE SENSORS
ELECTRICAL OR ELECTRONIC INSULATORS
BEARINGS TO ANALYTICAL INSTRUMENTATION
REFRACTORY ELEMENTS