MonaLIGHT - Next Generation Modular Narrow Angle Light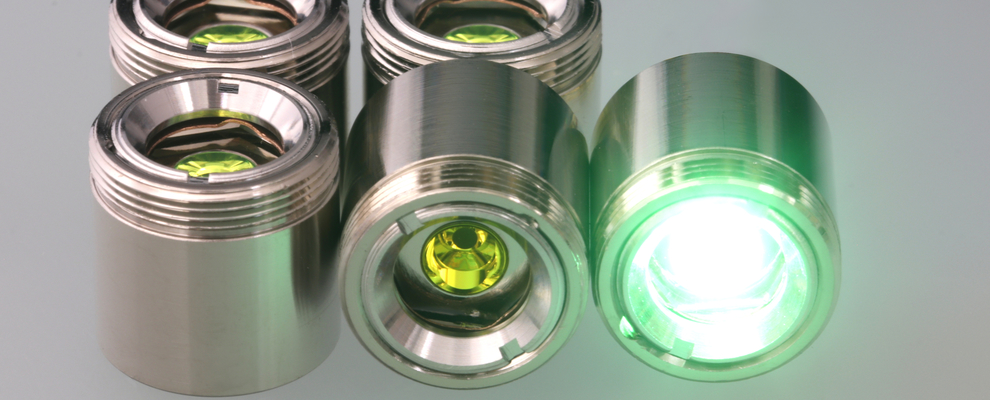 Versatile compact NONCOHERENT laser based light source modules
Key features
MonaLIGHT laser light modules represent the next-generation noncoherent light source built on laser technology with extraordinary characteristics.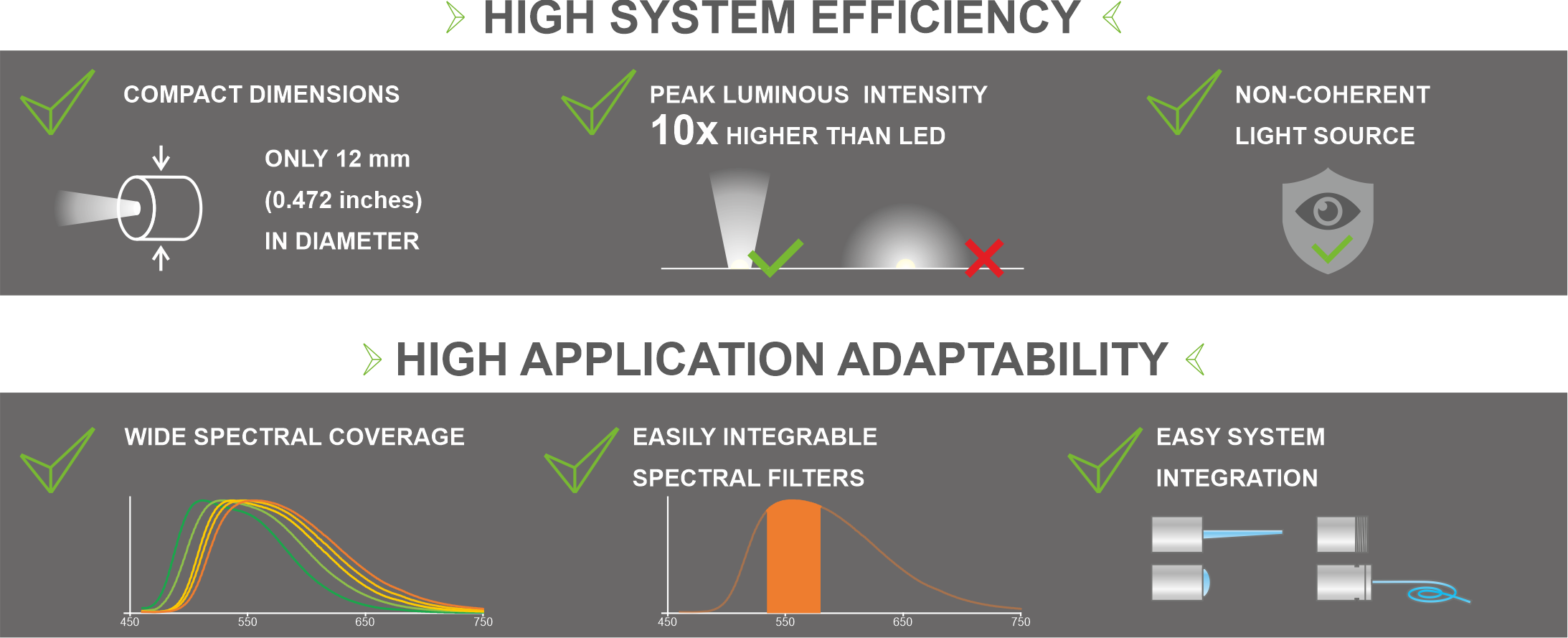 Narrow Beam
Very Low Etendue
Enable High System Efficiency
Superb Lumen Density
Low Divergence Angle
High Luminous Intensity
Non-Lambertian Light Source
High Luminance
Compatible with Standard Optomechanics
Adjustable to Specific Wavelength
Upcoming Generation of Laser Lighting
Wide Spectral Coverage
Key FEATURES

MonaLIGHT A01

Asymmetric light output well suited for slit illumination. An option is a direct attachment of a customized light guide.

MonaLIGHT B01

High output module with a symmetrical beam. Easy to integrate customized light guide.

MonaLIGHT F01

Optimized for etendue limited applications and direct fiber coupling with a directly accessible focal point with a 6° beam angle.

Luminous Flux:
1000 - 1300 lm
900 - 1100 lm
 500-520 lm
Viewing Angle (FWHM):
< 38°
8°
 6°
Peak Intensity:
up to 3500 cd
up to 6000 cd
 up to 8000 cd
Beam Angle (FWTM):
90°
34°
 25°
Optical Power:
up to 2.3 W
up to 2.3 W
 up to 1.1 W
Physical PARAMETERS
 
 
 
Weight:
< 10g
17.6 g
 19 g
Diameter
12 mm
12 mm
 12 mm
Power Input:
12.9 W
12.9 W
 12.9 W
Scientific applications
MonaLIGHT opens new possibilities in design for scientific and industrial applications, whether it comes to instrumental lighting, laboratory equipment, machine vision, fiber optics or fluorescence miscroscopy.
The team of our technicians is ready to prepare customized MonaLIGHT modules to fit your application in:
Biotech
Endoscopy
Fluorescence microscopy
Life science
Machine vision
Microscopy
Projectors
Scientific
Sensorics
High-speed imaging
PRECISELY DEFINED BEAM PROFILE
MonaLIGHT excels in precisely defined beam profile and intensity characteristics. The modules are designed for easy integration with standard customized optical elements to provide unbeatable system efficiency.
MonaLIGHT beam profile - comparison with standard LED (Lambertian) profile (normalized optical output)
Outdoor applications
The combination of high luminous intensity, narrow divergence angle and small compact device dimensions opens new possibilities in design for outdoor lighting in many applications:
Airborne and UAV
Architectural
Automotive
Industrial and Mining
Marine and Navy
Projectors
Safety and security
Underwater and diving
Sensorics
Sports